April 15 and 16, 2014: 4th LowInputBreeds Symposium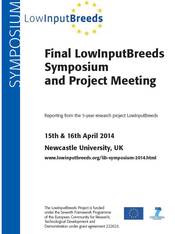 April 15 and 16, 2014: 4th LowInputBreeds Symposium in Newcastle, UK
Contact
Gillian Butler
Newcastle University
Nafferton Farm
Stocksfield
Northumberland
NE43 7XD, UK
UK
Tel. +44 166 1830222
Fax +44 166 1831006


E-mail
www.ncl.ac.uk/afrd

Fourth symposium of the LowInputBreeds project: Register now
(03.04.2014)
The fourth symposium of the LowInputBreeds project (www.lowinputbreeds.org

) will take place in Newcastle, UK, from April 15 to 16, 2014. At this symposium the results of the LowInputBreeds project, which comes to an end in April 2014, will be presented.
The venue is Newcastle University, Newcastle, UK, and it organized by the Nafferton Ecological Farming Group of Newcastle University.
Symposium flyer

Symposium flyer (481 KB)
Registration form
If ywish to attend the event, please use our registration form and send it to

teresa.jordon@no-spam.newcastle.ac.uk.
Contact
Gillian Butler, project coordinator, Nafferton Ecological Farming Group, Newcastle University, Newcastle upon Tyne, UK
---