Second LowInputBreeds Symposium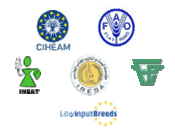 Feeding and management strategies to improve livestock productivity, welfare and product quality under climate change
= 14th International Seminar of the FAO-CIHEAM Network on Sheep and Goats Sub-Network on Nutrition and 2nd Symposium of the LowInputBreeds project
Date: May 15 to 18, 2012

Venue: Hammamet, Tunisia

Organisation: National Institute of Agricultural Research of Tunisia (INRAT) and the Pasture and Livestock Agency (OEP-Tunisia) & Mediterranean Agronomic Institute of Zaragoza (CIHEAM-IAMZ)
Key documents
Proceedings of the 14th International Seminar of the FAO-CIHEAM Network on Sheep and Goats Sub-Network on Nutrition now available
(15.04.2014)
The second LowInputBreeds Symposium took place in the framework of the 14th International Seminar of the FAO-CIHEAM Network on Sheep and Goats Sub-Network on Nutrition. The conference was entitled "Feeding and management strategies to improve livestock productivity, welfare and product quality under climate change". The local hosts were the LowInputBreeds project partner INRAT, the National Agricultural Research Institute of Tunisia and the Pasture and Livestock Agency (OEP-Tunisia).
The proceedings were published in the series "Options Mediterrranees" and are now available online.
The abstracts of the LowInputBreeds papers presented at the event were also published in the

6th LowInputBreeds Newsletter (783 KB).
Downloads
---