EAAP Conference in Barcelona: Book of Abstracts now available
The 60th Annual Meeting of the European Federation of Animal Science took place in Barcelona from 24 to 27 of August 2009. The book of abstracts can now be downloaded from the meeting homepage.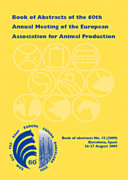 (07.09.2009)
The title of the meeting was 'Biodiversity and Sustainable Animal Production Systems' which is a hot topic in Europe and a very appropriate subject in view of the current worldwide demands for both human society and livestock industry.
Many partners of the LowInputBreeds project participated in the conference.
The European Federation of Animal Production EAAP is an international federation of national member organisations from 40 countries in Europe and the Mediterranean area.
The full programme of the 60th Annual Meeting of the EAAP 2009 in Barcelona with all the abstracts of the accepted contributions can be downloaded as an e-book in (pdf, 656 pages; 6.95 MB) from the Wageningen Academic Publishers website.
More information
---