Call for Papers Announced for 3rd ISOFAR Scientific Conference
In preparation for the 3rd ISOFAR (International Society of Organic Agriculture Research) Scientific Conference at the first Asian IFOAM (International Federation of Organic Agriculture Movements) Organic World Congress from September 28 - October 1, 2011, organisers announce the call for papers. The deadline for submission is November 30, 2010.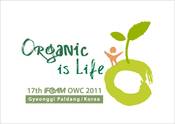 (12.07.2010)
The Organic World Congress (OWC), organised every three years, is the space where the organic movement comes to meet, exchange experiences, and develop ideas and strategies for the development and growth of organic agriculture everywhere. While the IFOAM conference focuses mainly on practical issues of the improvement of the organic sector, ISOFAR seeks to promote and encourage a scientific approach to the various challenges in organic agriculture.
The 3rd ISOFAR Scientific Conference at the 17th IFOAM Organic World Congress will be held in the Republic of Korea from September 28, 2011 to October 1, 2011.
ISOFAR welcomes papers on all aspects of organic agriculture and particularly calls for the submission of cross-disciplinary papers and issues related to the agricultural situation in Asia. Papers are due by November 30, 2010. For complete conference information and to submit papers, please visit the websites listed below.
Further information
Contacts
Links
---