First International Conference on Organic Food Quality and Health Research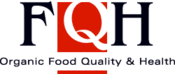 First International Conference on Organic Food Quality and Health Research
May 18 to 20, 2011
Prague, Czech Republic
www.fqh2011.org


www.organicfqhresearch.org

Contact
Johannes Kahl
PD Dr. rer. nat. habil. Dipl. Chem.
Senior scientist
Department of Organic Food Quality and Food Culture
Faculty of Organic Agricultural Sciences
University of Kassel
Nordbahnhofstr. 1a
37213 Witzenhausen
Tel. + 49 (0) 5542 98 1715
Fax + 49 (0) 5542 981713
E-mail

kahl@no-spam.uni-kassel.de
Internet www.uni-kassel.de/agrar/nue


Personal homepage

Call for Papers: First International Conference on Organic Food Quality and Health Research
The First International Conference on Organic Food Quality and Health Research takes place May 18-20, 2011 in Prague, Czech Republic. Papers can be submitted by January 23, 2011.
(07.01.2011)
The Food Quality and Health Association (FQH, The Netherlands), the Institute of Chemical Technology, Prague (ICT Prague, Czech Republic) and the Technology Platform Organics (TPOrganics) are jointly organising this conference.
Target gropup are all researchers in the field of organic food quality and health research, representatives of national and international agencies, control bodies and industries.
The Conference will focus on the State of the Art in research on organic food quality and health in the following areas:
Quality and safety of organic plant and animal products
Organic food authenticity
Impact of organic food on animals and humans
Health concepts
Further information
Contact
Johannes Kahl, University of Kassel
Links
---
News relating to this topic