LowInputBreeds Newsletter
Contact
Dr. Helga Willer
Research Institute of Organic Agriculture FiBL
Ackerstrasse 113
5070 Frick
Switzerland
Tel.+41 62 865 7207
Fax +41 62 865 7273


helga.willer@no-spam.fibl.org
www.fibl.org


Personal webpage

Fourth newsletter of the LowInputBreeds project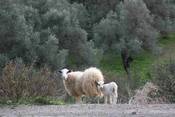 (01.05.2011)
The fourth newsletter of the LowInputBreeds project reports on the successful first project symposium which took place in March in Wageningen, the Netherlands, focussing on ethical issues in animal breeding.
Furthermore the newsletter contains an article on small ruminant production systems in Crete, and the traits required in order to improve production efficiency and product quality in traditional low-input dairy sheep production systems.
And like every newsletter, we report progress in the four LowInputBreeds subprojects.
Further information
Newsletter
Newsletter contact
Helga Willer, Research Institute of Organic Agriculture FiBL, Frick, Switzerland
---