2nd IFOAM Animal Husbandry Conference

Tackling the Future Challenges of Organic Animal Husbandry
September 12-14, 2012
Hamburg, Germany
Organic-Research.net: Conference report
IFOAM.org: Conference website

IFOAM conference "Tackling the Future Challenges of Organic Animal Husbandry" a success
Over 180 participants from more than 40 countries gathered to discuss the current state of organic animal husbandry and its future challenges at the 2nd IFOAM Animal Husbandry Conference held in Hamburg, Germany from September 12 to 14, 2012. It was hosted by the Institute of Organic Farming of the Heinrich von Thünen-Institut, a LowInputBreeds partner organisation.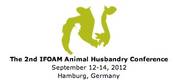 (19.09.2012)
Organized by the International Federation of Organic Agriculture Movements (IFOAM), the International Society of Organic Agriculture Research (ISOFAR) and the Institute of Organic Farming of the Johann Heinrich von Thünen-Institut (vTI), the conference provided an opportunity for scientists, farmers and members of the community to meet, share ideas, and advance the state of the art of organic animal husbandry.
Gerold Rahmann of the vTI hosted the conference and provided a welcoming environment conducive to discussion. Keynote speakers included Fritz Schneider of the Bern University of Applied Sciences in Switzerland, Pierre Gerber of the Food and Agriculture Organization of the United Nations, and Alan Savory of the Savory Institute in the United States. The three presented very different visions for the future of animal production in the face of growing population pressure and environmental problems.
A full report is available at the Organic Research website.
More information
Links
---