New inventory: A decade of EU-funded, low-input and organic agriculture research (2000-2012)
A new EU publication lists almost 50 European projects related to organic and low-input farming. Chapters written by experts of the organic sector provide relevant background information.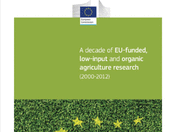 (22.09.2012)
Over the past decade the EU Research Framework Programmes have been supporting many aspects of research on organic and low-input agriculture and its results are presented in this catalogue.
The catalogue being part of a series published by the Agriculture, Food and Biotechnologies Directorate of Directorate General for Research and Innovation of the European Commission has the objective of presenting the outputs of the many research projects funded over three European research framework programs in the period 2000 - 2011.
The catalogue brings together the fruits of European research efforts targeting low-input and organic agriculture; it includes almost fifty projects with a total European Commission contribution of more than 150 million euros. Not all are strictly limited to the certified organic market sector, but contribute to and support its development.
The three main chapters cover large scale coordination projects, policy support, and sector development projects, and were written by Niels Halberg of the International Centre for Research in Organic Food Systems (www.ICROFS.org

), Otto Schmid of the Research Institute of Organic Agriculture (www.FiBL.org

), and by Christopher Stopes, president of the European Group of the International Federation of Organic Agriculture Movements (IFOAM EU Group, www.iofam-eu.org

).
The scope of the work is vast, ranging from an analysis of the relevance of this research from a policy maker, researcher and consumer viewpoint and gives indications of the remaining research gaps and drivers necessary to implement commercial uptake.
More information
---