European projects
Several current projects funded by the European Commission and other funding bodies are listed below:
Cutting Edge Genomics for Sustainable Animal Breeding SABRE
Thirty three leading animal breeding research groups and businesses have joined forces in "SABRE – Cutting Edge Genomics for Sustainable Animal Breeding". SABRE is an innovative four-year, €23 million pan-European project which utilises the latest techniques in genetic science to develop more economically and environmentally sustainable production systems for cattle, pigs and chickens.

Led by the UK-based Genesis Faraday Partnership, the integrated SABRE project, which commenced in April 2006, has been made possible by a major grant from the EU Sixth Framework Programme.

SABRE is designed to provide a range of new breeding strategies to improve animal health and welfare; reduce chemical and energy inputs; minimise livestock waste and pollution; and, maximise food safety and quality.

The work programme, involving almost 200 scientists in 14 countries, is divided into 12 research, development and communication packages. These will harness key areas of emerging genomic and epigenetic science to generate new knowledge and apply it in practical breeding improvement strategies throughout Europe.

The mammary gland, the digestive system and fertility will be the focus of separate basic research packages, with more applied research aimed at enhancing eggshell quality for food safety; improving animal behaviour linked to welfare; and eliminating boar taint in pigmeat.
More information
European Animal Disease Genomics Network of Excellence for Animal health and Food Safety EADGENE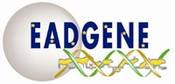 EADGENE is a Network of Excellence, funded by the European Commission. EADGENE aims to coordinate a genomics approach to the unravelling of the host-pathogen interactions in domestic livestock.
Thus, EADGENE aims to provide the basic knowledge necessary for the development of new or improved therapeutics and vaccines, improved diagnostics and the breeding of farm animals for disease resistance.
By concentrating on pathogens of importance in the food chain, this research will impact upon human health and lifestyle choices. The outcomes of this Network will help ensure that Europe retains its status as a world leader in animal health for years to come.
More information
Goat-parasite interactions: from knowledge to control CAPARA

The main objective of the Cost Action Goat-parasite interactions: from knowledge to control CAPARA)

is to advance our knowledge on various aspects of goats' parasitology and health management towards a better understanding of the different components explaining the specificities of goat-parasite interactions as well as to develop sustainable strategies to control parasitic diseases in goats. The project ends in November 2012. It is a Food and Agriculture (FA) Action and has the reference number FA0805.
COST actions are networks centred around nationally funded research projects in fields that are of interest to at least five COST countries. The financial support averages EUR 100 000 per year for a four-year period.
More information
QualityLowInputFood QLIF: Livestock production systems

About QLIF
The Integrated Project QualityLowInputFood (www.qlif.org

) ended in April 2009. The project aims were to improve quality, ensure safety and reduce cost along the organic and "low input" food supply chains through research, dissemination and training activities. The project focused on increasing value to both consumers and producers using a fork to farm approach.
The project was initiated on March 1, 2004. It is funded by the European Union with a total budget of 18 million Euros. The research involved more than thirty-one research institutions, companies and universities throughout Europe and beyond. Development of strategies to improve food quality and safety and production efficiency in organic and "low input" crop production systems.
About QLIF subproject 4: Livestock production systems
Results obtained in the QLIF subproject 4 (Development of strategies to improve quality and safety and reduce cost of production in organic and low-input livestock production systems) have provided recommendations to farmers and stakeholders on how to improve organic livestock farming. Progress was made in areas of housing, feeding and management.
Links
Welfare Quality®: Science and society improving animal welfare in the food quality chain

The EU-funded project Welfare Quality® (FOOD-CT-2004-506508) was running from 2004 to 2009. The project focussed on integration of animal welfare in the food quality chain: from public concern to improved welfare and transparent quality. The project aimed to accommodate societal concerns and market demands, to develop reliable on-farm monitoring systems, product information systems, and practical species-specific strategies to improve animal welfare. Throughout this Integrated Project efforts were focused on three main species and their products: cattle (beef and dairy), pigs, and poultry (broiler chickens and laying hens).

The research program was designed to develop European standards for on-farm welfare assessment and product information systems as well as practical strategies for improving animal welfare. The standards for on-farm welfare assessment and information systems have been be based upon consumer demands, the marketing requirements of retailers and stringent scientific validation. The key was to link informed animal product consumption to animal husbandry practices on the farm. The project therefore adopted a "fork to farm" rather than the traditional "farm to fork" approach".

Welfare Quality® was funded by the European Commission. It was an integrated project in the sixth framework programme, priority 5: Food Quality and safety. Forty-four institutes and universities (representing thirteen European countries and four Latin American countries) with specialist expertise participate in this integrated research project.
Further information