Contact
Dr. Helga Willer
Research Institute of Organic Agriculture FiBL
Ackerstrasse 113
5070 Frick
Switzerland
Tel.+41 62 865 7207
Fax +41 62 865 7273


helga.willer@no-spam.fibl.org
www.fibl.org


Personal webpage

Second newsletter of the LowInputBreeds project now available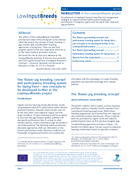 (20.04.2010)
The second LowInputBreeds newsletter provides brief state-of-the-arts reports on two themes within the project: the concept of flower breeding in pigs and alternative breeding approaches in laying hens.

Organic and low input pig and poultry farmers usually use genotypes/breeds selected for performance under intensive production systems.
However, these animals may not be the best under more extensive organic and free-range conditions. On-farm breeding would be an option to overcome the gap between genetic potential and site-specific performance. But, in contrast to other livestock species, on farm breeding of pigs and poultry is not widely practiced. The reports in this newsletter present two alternative approaches. Both use information on the animal's performance under extensive conditions and knowledge of experienced farmers. This information is combined with the advantages of a larger breeding population and specialist knowledge from industry partners.
Furthermore, the newsletter contains reports about progress in the subprojects which focus on the major livestock production systems.
More information
Documents
Newsletter subscription
Contact
---
News relating to this topic