Contact
Dr. Ferry Leenstra
Wageningen UR Livestock Research
Postbus 65
8200 AB Lelystad
The Netherlands
Tel. + 31 320 238517
Fax + 31 320 238050
E-mail

ferry.leenstra@no-spam.wur.nl
Internet www.livestockresearch.wur.nl

First LowInputBreeds Symposium on Ethical Consideration in Livestock Breeding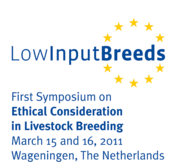 Report on the first LowInputBreeds Symposium
(14.04.2011)
On March 15 and 16, 2011 the First LowInputBreeds Symposium on Ethical Consideration in Livestock Breeding was organized in cooperation with ECO AB, the European Consortium for Organic Animal Breeding in the Hof van Wageningen, The Netherlands.
Over 50 participants (researchers, policy makers and farmers) participated in plenary lectures, discussions and species specific workshops. Central theme in the symposium was: 'low input, niche or model for future livestock production?' with attention paid to ethical issues.
The programme including the abstracts and presentations of the papers presented are available on the symposium homepage.
Further information
---
News relating to this topic