Second LowInputBreeds Symposium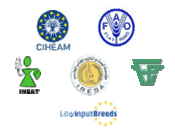 Feeding and management strategies to improve livestock productivity, welfare and product quality under climate change
= 14th International Seminar of the FAO-CIHEAM Network on Sheep and Goats Sub-Network on Nutrition and 2nd Symposium of the LowInputBreeds project
Date: May 15 to 18, 2012

Venue: Hammamet, Tunisia

Organisation: National Institute of Agricultural Research of Tunisia (INRAT) and the Pasture and Livestock Agency (OEP-Tunisia) & Mediterranean Agronomic Institute of Zaragoza (CIHEAM-IAMZ)
Key documents
Second announcement: 2nd Symposium of the LowInputBreeds project and 14th international seminar of the FAO-CIHEAM Network on Sheep and Goats
The second symposium of the LowInputBreeds project is taking place May 15 to 18, 2012 in Tunis, Tunisia. The second annoucement is now out, with the full programme and registration details.
(13.03.2012)
The second symposium of the LowInputBreeds project is held in the framework of the 14th International Seminar of the FAO-CIHEAM Network on Sheep and Goats Sub-Network on Nutrition, entitled "Feeding and management strategies to improve livestock productivity, welfare and product quality under climate change".
The event is organized by the National Institute of Agricultural Research of Tunisia (INRAT) and the Pasture and Livestock Agency (OEP-Tunisia), the International Centre for Advanced Mediterranean Agronomic Studies — Mediterranean Agronomic Institute of Zaragoza (CIHEAM-IAMZ), in cooperation the LowInputBreeds project.
Seminar Proceedings
The proceedings, including the text of keynote lectures, theatre presentations and posters accepted by the scientific committee will be published in the CIHEAM journal "Options Méditerranéennes". Texts are to be written in English.
Registration fees
Before 31 March 2012 registration fees for the two days of seminar and the technical visit will be 250 euro, afterwards fees will be 300 euro. Fees include attendance to the Seminar, refreshments and lunches and a copy of the proceedings.
Language
The working language of the Seminar will be English.
Further information
Contact
Mediterranean Agronomic Institute of Zaragoza
Avenida de Montañana 1005
50059 Zaragoza
Spain
Tel. 34 976 716000
Fax +34 976 716001
E-mail

iamz@no-spam.iamz.ciheam.org
Link
---
News relating to this topic