LowInputBreeds Newsletter
Contact
Dr. Helga Willer
Research Institute of Organic Agriculture FiBL
Ackerstrasse 113
5070 Frick
Switzerland
Tel.+41 62 865 7207
Fax +41 62 865 7273


helga.willer@no-spam.fibl.org
www.fibl.org


Personal webpage

Second LowInputBreeds Symposium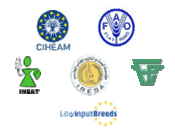 Feeding and management strategies to improve livestock productivity, welfare and product quality under climate change
= 14th International Seminar of the FAO-CIHEAM Network on Sheep and Goats Sub-Network on Nutrition and 2nd Symposium of the LowInputBreeds project
Date: May 15 to 18, 2012

Venue: Hammamet, Tunisia

Organisation: National Institute of Agricultural Research of Tunisia (INRAT) and the Pasture and Livestock Agency (OEP-Tunisia) & Mediterranean Agronomic Institute of Zaragoza (CIHEAM-IAMZ)
Key documents
Fifth newsletter of the LowInputBreeds project
(25.11.2011)
With its November 2011 newsletter the LowInputBreeds (www.lowinputbreeds.org)

project is informing its readers about progress made in its subprojects.
The thematic article in this issue by Ferry Leenstra and Veronika Maurer explains the difference of free range and organic poultry farms and farmers.
Furthermore the newsletter informs about the next LowInputBreeds symposium which takes place from May 15 to 18 2012 in Tunisia – an ideal opportunity to share findings from the project.
Further information
---