Contact
Prof. Dr. Henner Simianer
Georg-August-Universität Göttingen
Albrecht-Thaer-Weg 3
D-37075 Göttingen
Germany
Tel. +49 551 39-5604


E-mail
www.uni-goettingen.de/tierzucht

Georg-August-Universität Göttingen, Animal Breeding and Genetics Group, Germany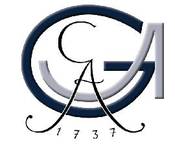 The Faculty of Agricultural Sciences at the Georg-August-Universität Göttingen is one of the largest and most productive academic groups in agricultural science in Germany.
The academic staff comprises 79 scientists (including 34 professors), 114 externally funded research positions (PhD/postdocs) and 130 technical positions.
The faculty raises an annual R&D income of 11 million Euros and produces 380 scientific publications (150 articles in peer-reviewed scientific journals) per year.
The total number of students (undergraduate, MSc and PhD) is approximately 1200.
In the LowinputBreeds project, the animal breeding and genetics group, led by Prof. Dr. Henner Simianer is the main collaborator. The group focuses on the integration of novel technologies into animal breeding programmes and also on the genetic improvement of functional traits, relevant for animal health and welfare, especially in dairy cattle.